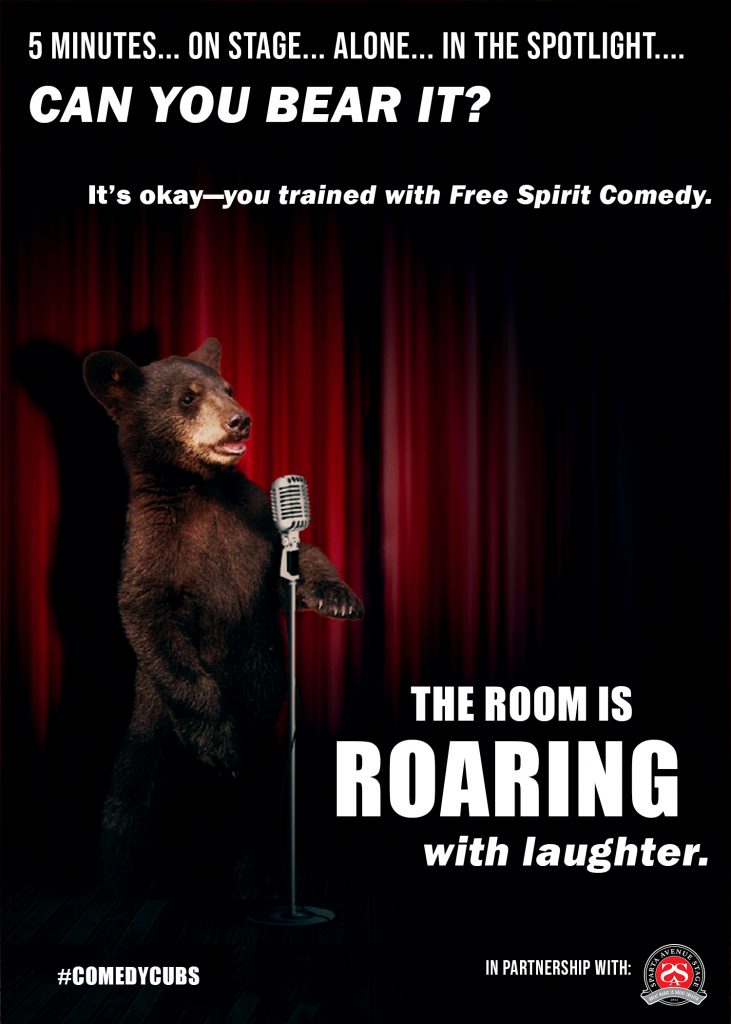 To pre-register for the fall 2022 program, please email freespiritcomedy@gmail.com. Classes will be held on Tuesdays 4:30 – 6:00 p.m. for ages 11 – 17 and 6:30 – 8:00 p.m. for adults starting September 20th. There will be a graduation showcase featuring all students on Friday, November 4th at 7:30 p.m. Rehearsals begin at 5:30 p.m.
FREE SPIRIT COMEDY PRESENTS: #COMEDYCUBS
Stand-Up Comedy Writing and Performance
Time: 4:30 – 6:00 p.m. (Ages 11-17); 6:30 – 8:00 p.m. (Adults)
Location: Sparta Avenue Stage, 10 Sparta Ave N, Sparta Township
Cost: $275 for a 7-week program with a graduation show
Are you the class clown? Or an introvert with a lot of funny opinions about the world around you? No matter what your personality type, making others laugh is something most of us enjoy—and all of us have the ability to do. Whether you are already funny or think you could be, Stand-Up Comedy Writing and Performance will help anyone overcome the fear of public speaking while learning fundamental communication skills that can be applied both on and off the stage. Come see if you have what it takes to stand in front of an audience and win them over with laughter!
What's Included
Seven (7) 120-minute classes
A graduation performance on a showcase featuring professional comedians
A YouTube link to a video recording of your performance
Free admission for two to a future show at the Sparta Avenue Stage
A really cool t-shirt
Enhanced self-confidence and bragging rights!
Syllabus
Course Description: Want to stand up and deliver comedy? In this 7-week course, learn the basics of joke writing and how to develop comedic material while rehearsing each week with feedback from your instructor. By the end of the workshop, you'll have crafted your own 5-minute monologue ready to be confidently performed in front of a live audience as part of a comedy showcase at the Sparta Avenue Stage!
Goal: To develop five minutes of good, clean stand-up comedy material that can be delivered in front of an audience. All classes combine lecture, writing and performance.
Schedule
Class 1: Introduction to Stand-up
What is stand-up comedy? Where does comedy come from? What makes you funny? We'll talk about how comedy exists in everyday life, ways to help your comedy material "materialize", and how to unlock your inner comic conscience.
Class 2: Writing Jokes
Now that you have some ideas, we'll cover the "fun"-damentals of comedy writing, with emphasis on structuring jokes in setup and punchline format. Exploration of possible premises, along with using elements of surprise and visual imagery as essential tools will be covered.
Class 3: Speaking in Your Comedy Voice
Editing is the basis of great writing. We'll refine your material so that your jokes aren't just good, but sound natural for you to say. The importance of attitude and emotion will be discussed, as well as ways act-outs can enhance your performance.
Class 4: Structuring an Act
With all the comedic fodder you have at this point, we'll begin setting up your stand-up routine. Material will be refined further to ensure the end product is a tightly crafted monologue with solid jokes from start to finish.
Class 5: Enhancing Your Act
With your routine organized, we'll continue to modify and reorganize your act so it's as polished as possible. Pacing, timing, and ways to build tension to deliver punchlines that have the greatest payoff will be examined. We'll also hone facial expressions and body language.
Class 6: Being "In the Room"
This class focuses on the importance of being in the moment. Confidence in yourself and your material will allow you to take spontaneous detours, should the opportunity arise. Crowd work, improvisation, and addressing hecklers/interruptions will be addressed.
Class 7: Final Rehearsal
You will perform your act from start to finish for one final review before the show. Your act will be timed with additional feedback and support provided by your instructor. Then… showtime!
Showtime:
Your adrenaline will be pumping and with good reason—you're about to go on stage the first time in front of a room full of people waiting to hear what funny things you have to say. It's sure to be one of the most unforgettable experiences of your life, and perhaps the start of a newfound obsession… Step into the spotlight and set your spirit free!